The leading site for singing crystal bowls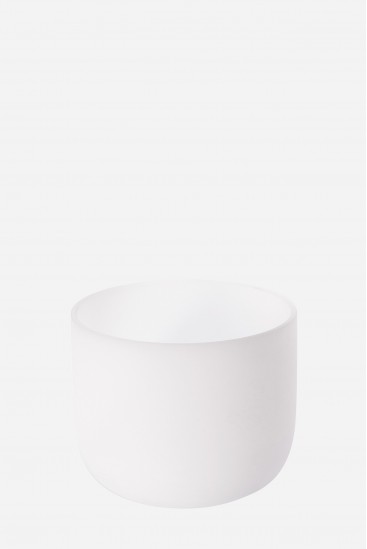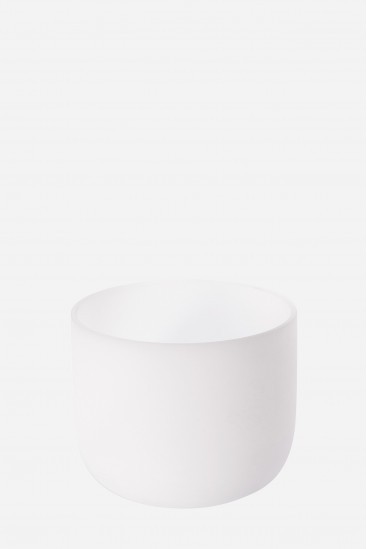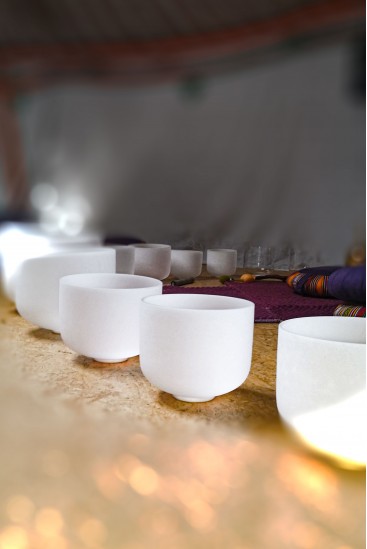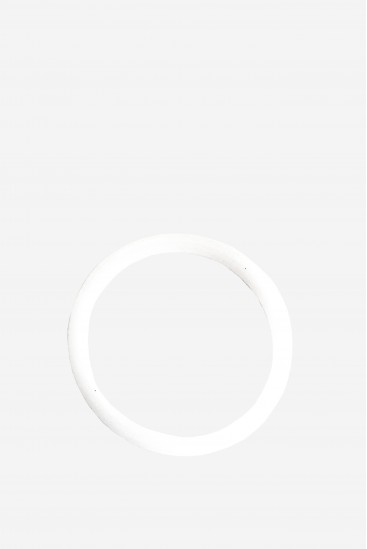  
440 Hz The Immaculed - Frosted Crystal Singing Bowl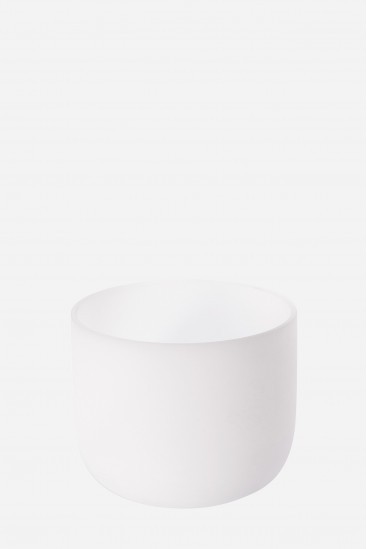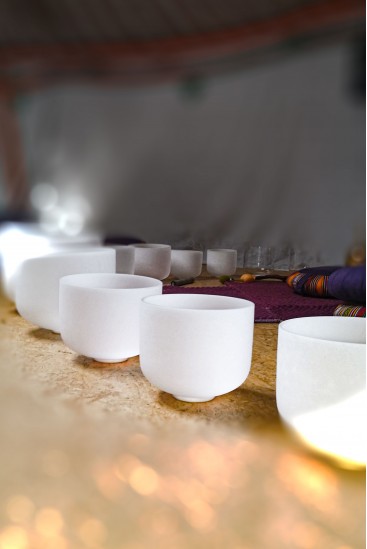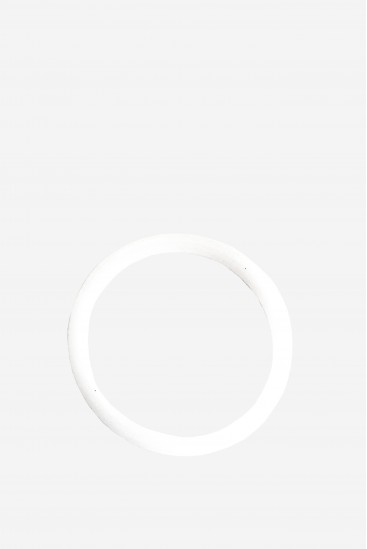 The great classic of crystal bowl with Cristal Vibrasons'PREMIUM finishing in 440 Hz - Perfect pitch in stock and homemade with the finest quartz powder in the world from American mines (direct shipment from France)
Specially designed for powerful and precise energy work. A long song for a maximum of vibrations.
And a rare gift: a free quartz and silicone mallet by order ! (in addition to the suede mallet)
Professional instrument particularly suitable by their sound range for therapists, sound baths and yoga classes.
Natural filter quartz bowl with a smooth, non-grainy sandblasted wall
From 15 to 50 cm in diameter across the entire color range for an XXL choice!
Color: immaculed white thanks to the purity of the selected quartz (USA)
From high-pitched sound (octave 5) to deep sound (octave 3)
Very long sustain (edge length) thanks to our rigorous specifications
Notes tuning 440 Hz except indicated 432- The word "Pure" next to the note means that it is perfect pitch
Maximum vibratory power: Variable sound spiral according to diameters and the bowl itself
Delivered with 1 translucent and discreet laying circle + 1 suede mallet
GIFT: 1 silicone stick with quartz handle (by order) for a soft touch ( value of 25 €)
Full description
Cristal Vibrasons selects for you singing crystal bowls of excellence. Since 2005, we have set rigorous specifications with our manufacturers to avoid granular crystal bowls and too thick. Our bowls are made of pure quartz and 100% natural. They are created according to an industrial process with international standards.
Our expertise is based on our singularity: therapist-teachers, distributors and designers range, we have the concern to offer you instruments that we test, purify and would like to use in our practices.
Originating from a French process used by Saint-Gobain, the laboratory crucibles became, thirty years ago, crystal singing bowls, an ingenious discovery of the American Cédric Wise. You will find everything about their origin in our white paper
Following the relocation, all crucible manufacturers have moved to China, thus transferring their know-how. The quartz used comes from Asia, the United States or Latin America.
Since 2004, we have been working with renowned manufacturers, certified to international standards (SGS) with whom we have drawn up demanding specifications, in accordance with our own professional practices and our choice of excellence.
A close partnership has therefore been established with creative artists. We inspire their work to create, with precision and beauty, our own collections.The Cristal Vibrasons singing bowls become incomparable vibratory and sound jewels for meditation!
Cristal Vibrasons can help you choose your bowl and answer your questions at anytime.
Please ask us all your questions on our live chat, we will be pleased to lead you to the perfect fit.
A choice on the net, guided by specialist trainers, can be simple and effective when your feelings match with their expertise.
Reviews about this product

Show attestation
9.6/10

Based on 237 reviews
This purchase corresponds to our need it is perfect (Translated review)

It is a magnificent object, impeccable quality, I am very happy with my purchase and the advice received. The sound is perfect, highly vibrant and powerful. Even as a beginner, the handling was immediate and the result amazing. (Translated review)

Beautiful and powerful (Translated review)

Impeccable (Translated review)

Corresponds to my expectations (Translated review)

Very good vibration, I recommend this note! (Translated review)

Very happy with this bowl, very nice tone, very fast shipping. I recommend (Translated review)

1st purchase with this bowl, and I am really satisfied. Very nice quality of the bowl, very fast and careful shipping. I am conquered! (Translated review)

Great product, recommend it. (Translated review)

Wonderful sound ! Even my cat loves it, he always comes when I play ! (Translated review)

The bowl is beautiful and the sound is very clear, the package arrived before the expected date. I am delighted with my purchase and I recommend the site (Translated review)

A bowl with a powerful sound, beautiful. received well packaged and protected. supplier that I recommend (Translated review)

Extraordinary sound, clear and fine, powerful and soft at the same time! Thank you for your recommendations and your kindness! Maryline (Translated review)

First of all, I was very surprised by the speed of the delivery. It is a very nice quality instrument, with a beautifully pure sound. The spiral is soft and powerful. To vibrate this "vessel" is not to be done lightly, its resonance is enormous. This bowl vibrates with love even though it is not supposed to work on the heart chakra since it is a Pure E. Proof that it was made with love and passion. Moreover, it seems to have been cleaned, purified before being sent. In any case a person controlled it before sending. There are also 2 tools to make it sound or rub it and it is very useful. All in finesse and seriousness, I will easily recommend this site. (Translated review)

Very nice bowl, excellent quality. The sound is very powerful and also very long. I made it listen to several people who really felt enormous effects at the level of the heart and the plexus. The horses also liked the sound and one of them wanted to put his nose in it so much he was attracted. At the horses' shelter, they shut up when they heard the sound and instantly calmed down. It was magical. I can highly recommend it. (Translated review)

Top bowl and quality. Love the sound

Enchanted by the vibration of my bowl (Translated review)

Thank you again Pascal and Muriel for assisting me in my choice with my budget and the vibration / note desited. The bowl is beautiful and bigger than I thought. Thank you for replacing the stick that had a defect so quickly. I have given your site in reference to several people. (Translated review)

Wonderful! (Translated review)
Our expertise, your asset
No drop shipping or Market place. So, no unpleasant surprises! After control, all our instruments leave directly from us.
Automatic 10 percent discount for professional Health or Well-being accounts with SIRET number (excluding promotional products)
Appointment possible by videoconference or by phone to listen to your bowl before purchase
Payment in several installments by credit card with Klarna, Paypal and checks
You might also like
Professionals advise you
Description of my product
Attention: over an octave (C D E F G A B), the last note is always higher than the first! Example: C octave 4 (medium) is lower than B octave 4 (medium). So, If octave 4 is high to the ear, because it is the note which precedes the C octave 5 !
Cristal Vibrasons has specialized solely in quartz singing bowls for over 20 years. We have developed these instruments with our manufacturers and we have implemented rigorous 6-point specifications for exceptional professional equipment:
- Selecting the manufacturers is essential because few know the use of these laboratory crucibles diverted from their functions to become singing bowls.
- Cast with impeccable quartz purity among a large number of quality levels linked to the origin of the mineral
- Refine the sanding processes to erase the friction noise of the mallet
- Choose the bowls with the longest song (sustain) by eliminating rejects and medium range bowls found in market places or drop shipping stores.
- Perfectly control each instrument to check the high crystal frequency after vibratory cleaning of each bowl.
- Send the crystal bowl directly from our showroom without dropshipping (sending by the manufacturer without quality guarantee and with customs duties and taxes) Many dealers hide this abuse and this practice opens the door to unpleasant surprises and to dissatisfaction with the bowl received. We guarantee the excellence of our collections because we design them with our craftsmen and we use them for our personal and professional practices.
Everything is possible with the Immaculed, to create elixirs, to work with the water, to meditate, to accompany concerts or sound trips, to realize energetic care, to sing mantras ... etc. Moreover, they are excellent mediators for therapeutic accompaniments.
• The Apprentisons
• The Vibraspirants
Their sound and vibratory power is remarkable, stable and long, whatever the diameter of the bowl. It's easy to play with. They can be used indoors and outdoors.
Some diameters are heavy to wear. Their power requires to raise awareness about their use and also to develop the control of the energetic fields they deploy and elevate.
432 or 440 hz: what's the difference?
Actually for a single bowl no need to formalize! For example, the same singing bowl detected by a tuner with D note in 440 hz will give (with this same tuner) a D # in 432 Hz. We change just standard but it is still the same quartz instrument which does not change. On the other hand, for a set of bowls of crystal there is very different. The  A note bowl being tuned to 432 Hz will determine all other notes in the set. And there will be a real difference between a set in 440 Hz and another set in 432 Hz.
In summary, unless you are a musician or convinced that 432 Hz is the best frequency for you, the ESSENTIAL IS CRYSTALLINE ENERGY. It is she who purifies, clarifies or raises the vibratory rate of the Living. The rest is a matter of personal affinity and stock status in 432 hz.
Our Accessories: quality and performance down to the last detail
Premium gaming stick is silicone and quartz mallet to prevent rubbing noise. A white, thick and elegant silicone support for a stable hold.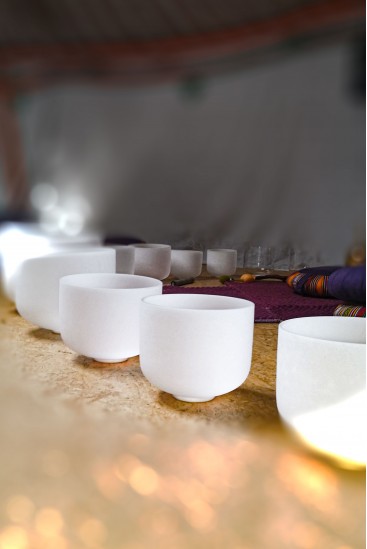 What our clients think