practitioners in vibration and sound techniques
In the Beginning there was Sound...
More than an emotion – wonderment, transcendence, a state of complete rapture, an intuition of eternity! From this spark was born Cristal Vibrasons, the leading brand in crystal bowls. Pascal and Muriel Lacombe, two therapists inseparably united with each other, are the pioneering creators who brought it to life.
A Couple who Live their Joint Vision
Year by year, the nature of their task became ever clearer to them: to support the evolution of human consciousness through the benefits of sound and crystalline energy.  
Together they see a New World emerging, one where Humankind has attained full consciousness of its spiritual nature and the sanctity of life.
The Mission of Cristal Vibrasons Unfolds Along Three Dimensions:
Choosing and creating quartz instruments with high vibratory frequencies
Sharing sonic meditation practices and self-awareness techniques
Supporting awakening to different aspects of crystal dimension
The Cristal Vibrasons mission is driven by dedication to its values – transparency, autonomy, consistency and personalized attention.
The Cristal Vibrasons Commitment
Vibrant excellence and Quality!
Cristal Vibrasons has developed a range of crystal bowls in natural quartz, extraordinarily powerful instruments of matchless beauty offering a magnificently pure sound. Created in close partnership with makers and craftspeople selected for their expertise, all these singing bowls conform to tight specifications and are subject to strict quality control. Always there for you, Cristal Vibrasons offers personalized support by telephone or online chat to all customers needing help to choose the bowl that best matches their needs, sound affinities and budget.
Personal and/or Professional
Cristal Vibrasons has the most comprehensive offering in the universe of crystal bowls. 
A digital universe like no other in the world, offering:
- 3-month distance learning courses with learning support via videoconferencing
- an online store with a catalog of exclusive collections available year-round
- a fully referenced dedicated blog
A Center in Gironde, near Bordeaux (France), where you can take part in:
- courses on using the instruments, crystalline energy and voice
- meditations and sound journeys
- accompanied sessions and vibrational therapy to help you relax and find yourself
- a showroom where you can discover and choose your singing bowl
With Cristal Vibrasons, enter the crystalline dimension of your being, in tune with the most beautiful chords of the universe!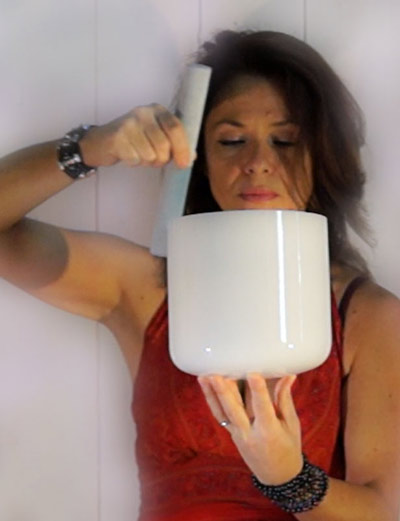 Muriel is a holistic therapist, psychotherapist, trainer, and certified life coach (DPRH Jacques Dechance). She was formerly a state-certified nurse, health executive in hospitals and the psychiatry/paediatric psychiatry field, then a trainer at the Institut des Métiers de la Santé (a university centre). Her career has always been focused on human potential. Inspired by the Reliance pedagogy, her approach encompasses the different dimensions of Being. The integration of Sound into her practice is an example of her therapeutic synthesis.
"Sounds are extremely effective intermediaries for those undertaking a psycho-spiritual journey. Paradoxically, they encourage inner silence, so we can listen to and hear what is said. These Sounds connect us to the deepest part of our Being, to what makes us suffer in the present, what is repeating from our past, and the place where we are free from all conditioning. These Sounds connect us to the depth of our Being".
Pascal has been an entrepreneur, a state-registered trainer, and Vincent Lenhardt-certified "Coach and Team" coach. He later added ODA (Ontologie Dynamique Appliquée - Dynamic Applied Ontology) to his therapeutic practice. A self-taught man and pioneer in the use of crystal bowls for more than 10 years, he negotiates with the world's leading manufacturers using strict standards to select bowls and instruments. He has developed training courses, an ethical framework, and techniques to effectively use these powerful accelerators of growth.
"After reintegrating my soul's main traditions (Native American, Peruvian, Celtic, Hindu, Berber, Eurasian, and Atlantean), Sounds now unite my work as a guide to awakened consciousness. This is a path upon which we are all disciples and masters of ourselves".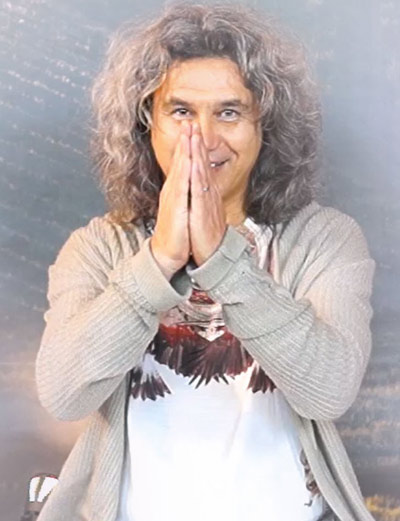 We have been guiding individuals and groups for more than 30 years. When we work together, we harmonise our sensibilities to co-create, lead, transmit, relax, and guide as a pair. This dynamic union of the feminine and masculine offers a reassuring and caring environment, a harmonious balance, and the richness of our different approaches.
To share our expertise in sound energy therapy, we created a centre in France: the Cristal Vibrasons Centre. It is a place where people can awaken to the experience of Being.
In a world in which everything is quick and accelerate, meditating, refocusing and calming your mind and raising your energy level is a daily challenge to cultivate your inner freedom!
At the service of the human being - in all its states - and the awakening of the consciences for a more wise, responsible and serene world.
Offering crystal singing bowls and natural quartz instruments, teachings and a space of sound meditation to those who are committed to sounding for therapeutic purposes or for meditation.
A center to learn and live the experience of sound meditation. An online school, educational platform with personalized support. An innovative site with an online store and a blog about the use of sounds.