The leading site for singing crystal bowls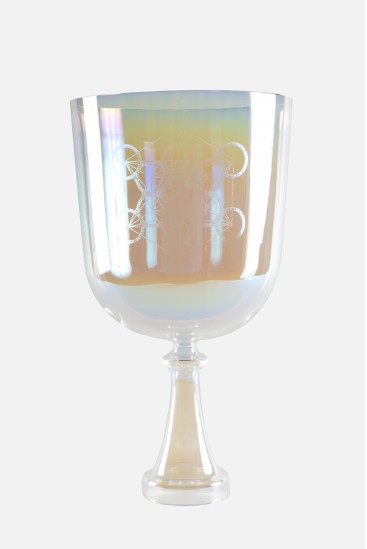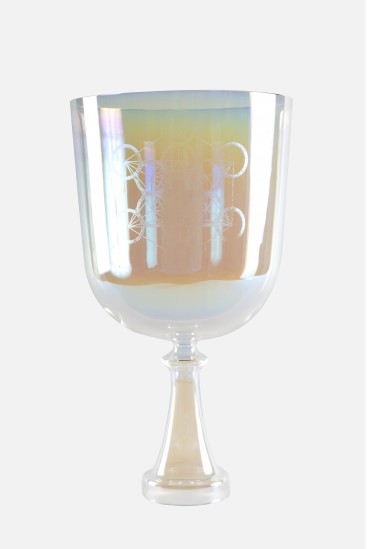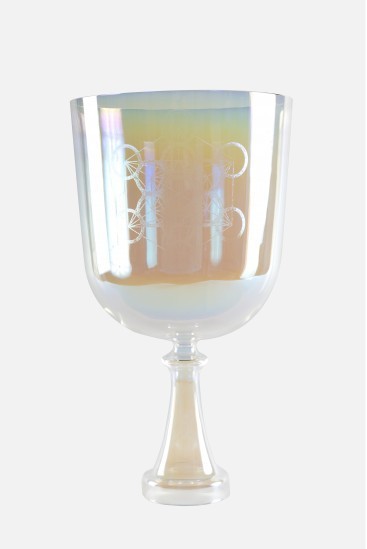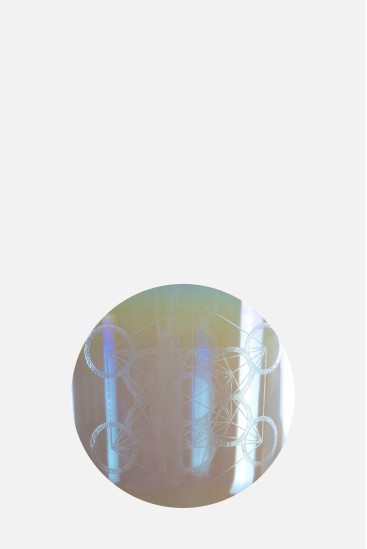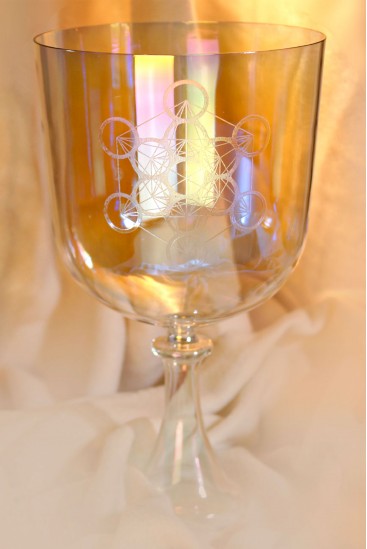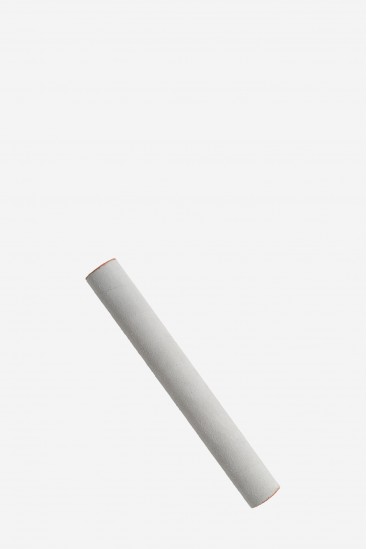  
METATRON - Iridescent - Chalice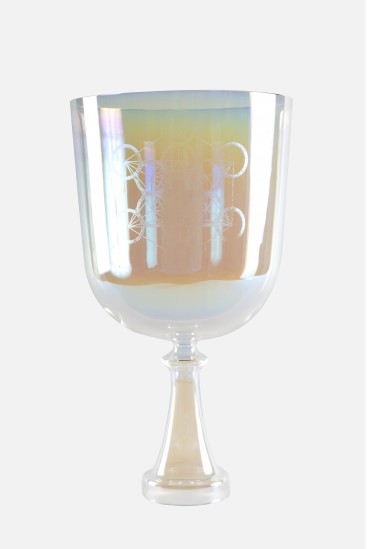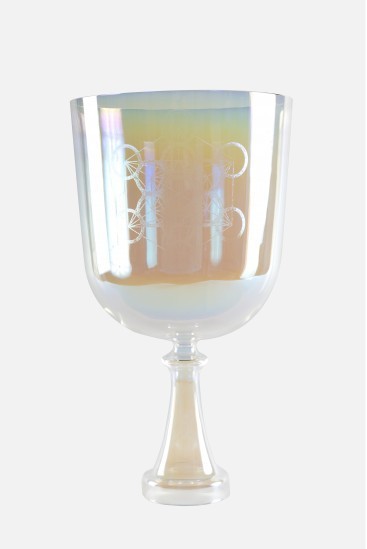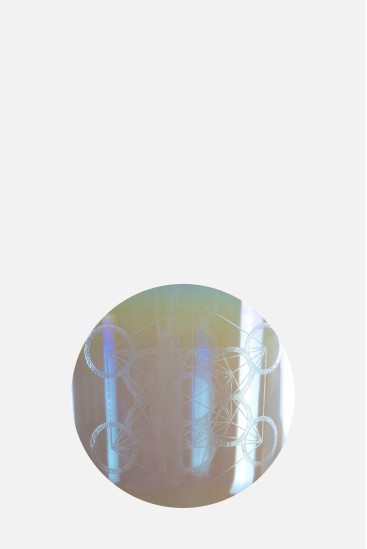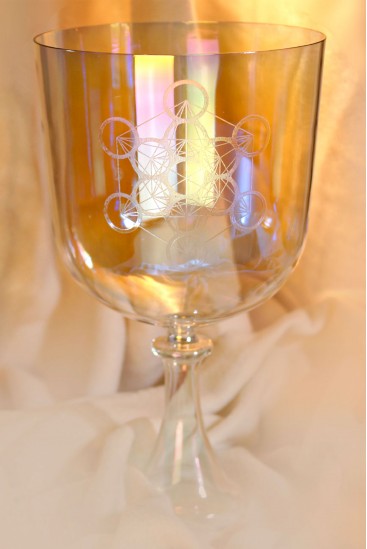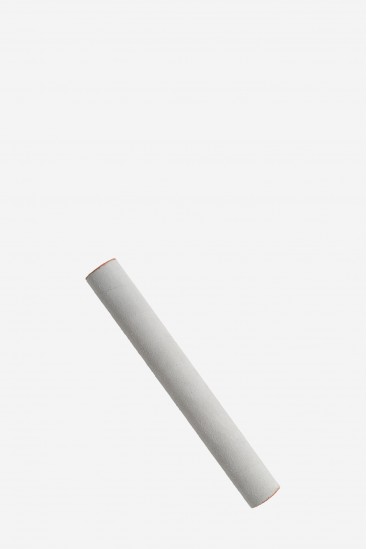 The Metatronic Key at the service of Supreme Awakening.
The Regent Director of our universe for your Path or your Awakening of Conscience Service.
PROFESSIONAL MATERIAL
Handle natural quartz bowl, subtly iridescent with titanium gas
VERY BIG SIZE de 22 cm de diamètre environ de 45 cm de hauteur. Rarissime! VERY BIG SIZE 9" (22/23 cm) diameter and 45 cm height. Extremely rare!
E note in correspondence with 3th solar chakra, Manipura
BEAUTIFUL ENGRAVING : seal of Metatron - Archangel of the 1st Séphirah KETHER (the crown)
Color : transparent with the iridescence of the 7 rainbow colors
Sound : bass (3 octave)
Spiral: long and descending (from Kether to the planes of the incarnation)
Available carrier
Full description
Cristal Vibrasons selects for you singing crystal bowls of excellence. Since 2005, we have set rigorous specifications with our manufacturers to avoid granular crystal bowls and too thick. Our bowls are made of pure quartz and 100% natural. They are created according to an industrial process with international standards.
Our expertise is based on our singularity: therapist-teachers, distributors and designers range, we have the concern to offer you instruments that we test, purify and would like to use in our practices.
Originating from a French process used by Saint-Gobain, the laboratory crucibles became, thirty years ago, crystal singing bowls, an ingenious discovery of the American Cédric Wise. You will find everything about their origin in our white paper
Following the relocation, all crucible manufacturers have moved to China, thus transferring their know-how. The quartz used comes from Asia, the United States or Latin America.
Since 2004, we have been working with renowned manufacturers, certified to international standards (SGS) with whom we have drawn up demanding specifications, in accordance with our own professional practices and our choice of excellence.
A close partnership has therefore been established with creative artists. We inspire their work to create, with precision and beauty, our own collections.The Cristal Vibrasons singing bowls become incomparable vibratory and sound jewels for meditation!
Cristal Vibrasons can help you choose your bowl and answer your questions at anytime.
Please ask us all your questions on our live chat, we will be pleased to lead you to the perfect fit.
A choice on the net, guided by specialist trainers, can be simple and effective when your feelings match with their expertise.
Reviews about this product

Show attestation
Impressive bowl by its balance, its sound palette, and its marriage of straightness, sensitivity and envelope. Vibratory. A very beautiful meeting (Translated review)

I am very satisfied with my purchase! I am very receptive to the energies of the minerals, I feel like I am coming home... I strongly recommend it. The METATRON chalice develops by its use a great inner peace, envelops us with a soft protective energy. Its very fast rise in vibration allows to clean a room by leaving a feeling of lightness to the places. I thank Pascal for his listening and his advice. I was lucky enough to receive the chalice after only one day. Thank you both for offering us such beautiful tools of elevation. (Translated review)

This exceptional chalice activates your tree of life soul blueprint and accelerates your ascension through grounding your purpose while helping you to step more fully into your power and divine dharma. The rainbow light body is harmonized and self-imposed obstacles removed as (in my experience) this chalice's rainbow iridescence harmonizes the entire subtle energy anatomy system. It is a perfect complement to mantra practice as its powerful low (third octave) dominant and bright and long sustaining overtones inspire a multitude of devotional harmonies and melodies. Finally, this bowl is a potent companion for anyone looking to activate their merkaba and amp their manifestation skills. Thank you Pascal and Muriel for this and your other sublime crystal sonic creations! (Translated review)

I am so happy with this purchase! The bowl is beautiful! The sound is powerful and smooth. I use it in care as well as to anchor myself, it goes very well with the voice. I already have vibrasonic crystal bowls and my choice for this one was made on the good advice of Muriel, very available. Now I'm waiting to enlarge this collection in order to bathe more and more in this crystalline energy. Thank you both for these quality products. Paméla (Translated review)

Wonderful very good condition and well packaged (Translated review)

Superb bowl, beautiful sounds. The spiral is long. It is simply magnificent. Difficult to put words on this emotion. My clients love it. (Translated review)

The crystal chalice "seal of Metatron" is a great vibrational treasure. It activates several spirals simultaneously, which create a very beneficial harmonic environment. I had a physical symptom in one of my ears when I received it. After connecting with the bowl, I placed it with the base open around my ear and then rang it: the pain and discomfort disappeared: the energy-information diffused by the bowl had realigned my own structure and restored my well-being! A big thank you to Muriel and Pascal Lacombe for proposing these special and accurate creations, and I wish a beautiful experimentation to all those who will feel called to these extraordinary bowls (Translated review)

The sound of this chalice is exceptional! I miss it when it's in my office and I'm not there :-) I highly recommend it; it never leaves my side. (Translated review)

I love it, it never leaves me :-) (Translated review)

The bowl matches the advertised product, the bowl is beautiful and carries a beautiful and deep energy when activated. (Translated review)
Our expertise, your asset
No drop shipping or Market place. So, no unpleasant surprises! After control, all our instruments leave directly from us.
Automatic 10 percent discount for professional Health or Well-being accounts with SIRET number (excluding promotional products)
Appointment possible by videoconference or by phone to listen to your bowl before purchase
Payment in several installments by credit card with Klarna, Paypal and checks
You might also like
Professionals advise you
Description of my product
The METATRON chalice is a bowl of Cristal Vibrasons crystal in natural quartz iridescent with titanium gas which gives it colored refractions when light touches it.
Your bowl is delivred with suedin mallet and O-ring.
Its song is deep and deep (octave 3), which facilitates internalization, calm and inner peace. Perfect for meditation and ritual practices. It is also an exceptional mediator in energy care, especially since its engraving gives it an exponential vibrational rise!
It can lose intensity outdoors or in large groups. The thinness of its wall requires adapting the play of the stick to prevent the bowl from saturating too quickly.
• The Apprentisons
• The Vibraspirants
Its wall is smooth, there is no friction noise with the stick. Its octave facilitates access to inner calm and the transition to an alpha wave when you play it long enough in Sung-Song. The vibrational language of this exceptional vessel is elevated with a sharp and rapid spiral. It has many harmonic floors! It raises the vibrational levels quickly.
Impact of the matatronic key?
The engraving represents the key to the Archangel Metatron. Metatron is the archangel of the first sephirah of the tree of life, Kether. He is the prince of the faces, the one who stands before the face of the god. His Angelic order: regent of the hierarchy of Seraphim. It is the highest in the celestial hierarchy. It is he who dispenses divine light on the world. He is closest to the throne of God.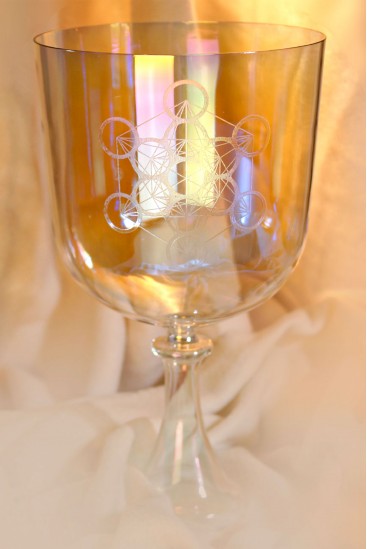 What our clients think