The leading site for singing crystal bowls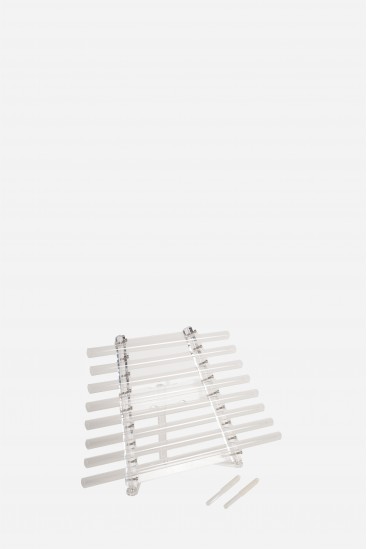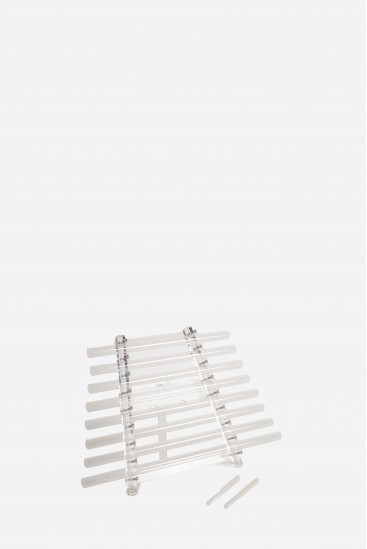  
Cristal Vibraphone - 432 Hz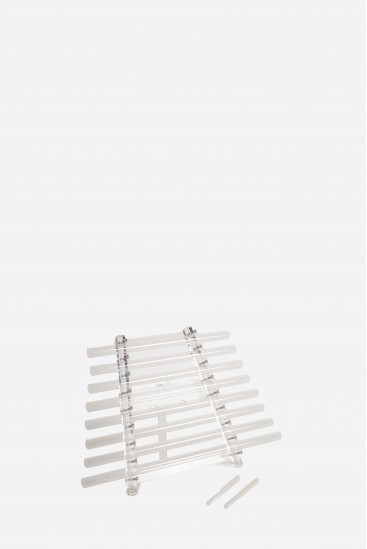 Crystalline energy gives us the most refined rapture ever! Innovation Cristal Vibrasons in 432 Hz.
The Cristal Vibraphone is a perfect harp, powerful, light and at the best price on the market for this quality of sound. The stability of the tubes, without drilling or fishing line and without tension wheel offers a perfect tension for this professional material. A classic model that we have designed with our manufacturer to offer it to you in transparency or iridescent. The very light iridescence gives it delicate light codes making it very elegant and delicately radiant.
 2 years GUARANTEE against any manufacturing defect.
The Vibraphone crystal is made of natural quartz, not synthetic quartz.
Diatonic range in 432 Hz (DO, RE, MI, FA, SO, LA, SI DO) with 8 tubes
Innovative fastening system: translucent and discrete elastics, keeping each tube independently of the others
Comfortable grip and incredible lightness of the instrument
Stability perfect notes through a strong framework and non-pierced tubes
Octave: 5 and 6 - acute - with a harmonic richness of great subtlety
Transport and protection case qualitative, aluminum (light), to tidy up.
Possibility to choose clear or light clear seven color tubes
Full description
Cristal Vibrasons selects for you singing crystal bowls of excellence. Since 2005, we have set rigorous specifications with our manufacturers to avoid granular crystal bowls and too thick. Our bowls are made of pure quartz and 100% natural. They are created according to an industrial process with international standards.
Our expertise is based on our singularity: therapist-teachers, distributors and designers range, we have the concern to offer you instruments that we test, purify and would like to use in our practices.
Originating from a French process used by Saint-Gobain, the laboratory crucibles became, thirty years ago, crystal singing bowls, an ingenious discovery of the American Cédric Wise. You will find everything about their origin in our white paper
Following the relocation, all crucible manufacturers have moved to China, thus transferring their know-how. The quartz used comes from Asia, the United States or Latin America.
Since 2004, we have been working with renowned manufacturers, certified to international standards (SGS) with whom we have drawn up demanding specifications, in accordance with our own professional practices and our choice of excellence.
A close partnership has therefore been established with creative artists. We inspire their work to create, with precision and beauty, our own collections.The Cristal Vibrasons singing bowls become incomparable vibratory and sound jewels for meditation!
Cristal Vibrasons can help you choose your bowl and answer your questions at anytime.
Please ask us all your questions on our live chat, we will be pleased to lead you to the perfect fit.
A choice on the net, guided by specialist trainers, can be simple and effective when your feelings match with their expertise.
Reviews about this product

Show attestation
9.8/10

Based on 16 reviews
very good (Translated review)

Long thought of purchase and finally manifested, this harp is beautiful with a magical sound. A dream came true. Thank you (Translated review)

beautiful instrument, a superb note holding and a crystalline sound. We think that a lower sounding bowl (in lower octaves) would be good to enhance our sound travels. Because of its very high frequency it is nice to have a drum or an instrument that counterbalances. (Translated review)

SUPER SOUND (Translated review)

I opted for the clear, non-iridescent tubes. I am very satisfied with the quality. An invitation to travel... (Translated review)

This Crystalline Harp allows one to access the realms of the angels with ease and grace as well as open up the head voice beautifully. It aids in strengthening the higher self source connection and allows one to channel alchemical cosmic codes with ease. In sound meditations it brings ethereal resonance and an invitation to embrace innocence, awe and unity. Finally its beautiful construction makes it light and extremely easy to play with clear, long-lasting, and bright harmonic textures that open the higher heart as well as balance the crown and soul star centers- in my experience. A noble instrument of intense purity and luminous radiance, it is my most beloved companion in intuitive and spiritual sojourns. Thank you for this magnificent gift of divine crystal sonic sweetness Muriel and Pascal! (Translated review)

This instrument is a pure wonder, a delight for my whole being. I have already used it for a sound bath, the people were transported by this crystalline sound and cleaned according to their opinion. With wet hands it is indescribable what is felt. Desire to play endlessly. (Translated review)

Madam and Sir, Muriel and Pascal, Without further ado, I would like to express my joy at the reception of the Cristal Vibraphone which I ordered from you previously; Everything went well: both the delivery to the "point Relais", and the state of the parcel in due form. I would like to thank you warmly, because this beautiful "musical instrument" corresponds to the realization of my "very distant wish" and concretization of my long vibratory search for sounds.On the other hand, the presentation in a case is elegant, practical and reassuring in protection of displacements. In short, a reality well present, without flattery, just of the joy that I return to you, with my very respectful greetings, with for only wish: That "Many" find in this beauty of the sounds, the Echo to the call of their soul, Well with you, (Translated review)

Hello! I received the harp this afternoon and the first encounter was magical. From the very first sounds, a feeling of calm and joy. The instrument immediately told me that its role would go far beyond artistic pleasure. Its use in care and meditation workshops will perhaps be possible once I have learned to know its language... Thank you for this beautiful instrument and for this adventure, Sonia. (Translated review)

Hello Pascal and Muriel, I finally take the time (better late than never) to tell you that I received the crystal harp, it is very beautiful and pleasant to handle, the notes are vibrant, soft and clear. I am delighted and thank you for your kindness. I am delighted and I thank you for your kindness. For information, does the online training only contain the bowls or also the harp? I watched Muriel's little video on the harp, I really liked her presentation too. Yours truly Régine (Translated review)

Incredible instrument, I play it in my garden and the plants appreciate it. They quickly took more strength and energy. (Translated review)

What an amazing instrument! The instrument is fabulous! Came well packed and the aluminum case protects the harp perfectly. (Translated review)

The crystal vibraphone is a wonderful instrument. A few notes played according to inspiration represent an unprecedented soothing, comforting and sweetness for me. If the tuning fork harmonizes me, the harp lifts me up through its magical sounds. Thank you for making such precious objects available to us... If some members of the community have written beautiful scores to play on this harp, I am interested! (Translated review)

Envelopment of softness and crystalline elevation in perspective... The crystal vibraphone is a wonderful instrument. A few notes played according to the inspiration represent a soothing, a comfort and a sweetness without precedent for me. If the tuning fork harmonizes me, the harp lifts me up through its magical sounds. Thank you for making such precious objects available to us... If some members of the community have written beautiful scores to play on this harp, I am interested! (Translated review)

Hello, I received the package, thank you very much, I am very happy. Happy Holidays N. W. (Translated review)

great! Hello, (Translated review)
Our expertise, your asset
No drop shipping or Market place. So, no unpleasant surprises! After control, all our instruments leave directly from us.
Automatic 10 percent discount for professional Health or Well-being accounts with SIRET number (excluding promotional products)
Appointment possible by videoconference or by phone to listen to your bowl before purchase
Payment in several installments by credit card with Klarna, Paypal and checks
Description of my product
EXCLUSIVE CRYSTAL VIBRASON MODEL without nylon fishing line or adjustment knobs for stability of notes and greater reliability! A major development for musicians and therapists!
The Vibraphone Crystal is an instrument made of transparent quartz crystal. Light and small (37 cm high - 54 cm wide for the largest tube). Its particularity lies in its tube attachment system. Translucent elastics hold each tube flexibly, independently of each other. They hang easily on small open studs, hook-shaped. You have a replacement bag in your briefcase if necessary. You don't need to adjust the voltage as there is no wire through the tubes and does not require adjustment by a knob. The notes are accurate and perfect without alteration in time.
Your crystal instrument comes with 2 siliconized quartz mallets in its briefcase. You also have a very light plexiglass harp support, allowing you to play vertically, like a harp and even a xylophone. By wetting your hands, you'll get amazing vibrating and sound effects.
The Vibraphone Crystal is the ideal instrument for harmonizing and releasing tensions and blockages. At the heart of meditations or sound travels, he deploys a vibratory universe of great subtlety.
The Vibraphone Crystal is an instrument that everyone, musician or not, can use gracefully.
The choices of Cristal Vibrasons !
We chose the 432 Hz range for this crystalline wonder. The sounds are light and thin: a flight to new worlds ...
The iridescence does not change the Sound, but it brings light codes of the colors of the rainbow.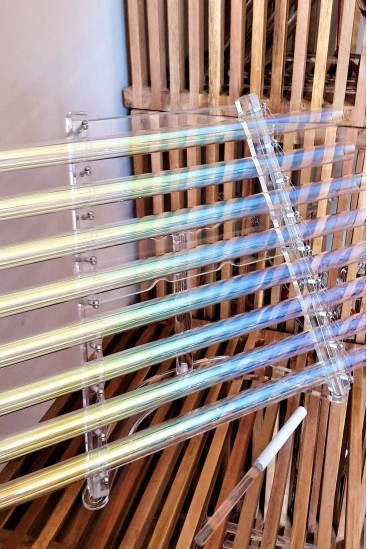 What our clients think