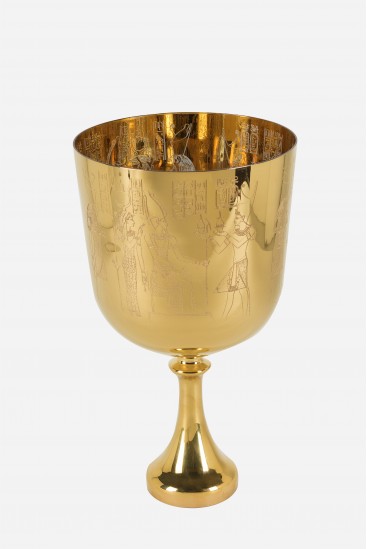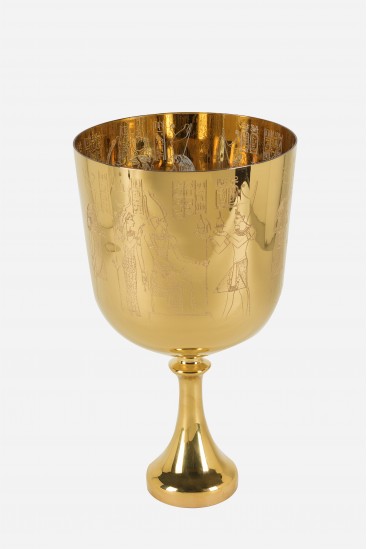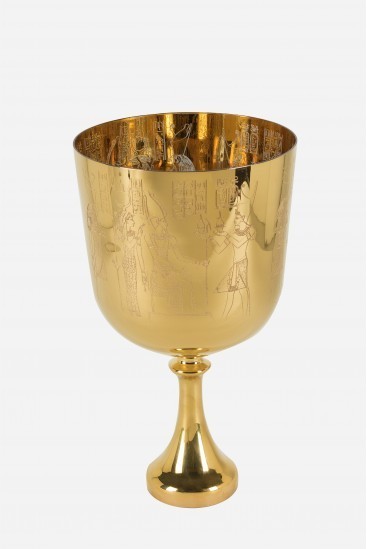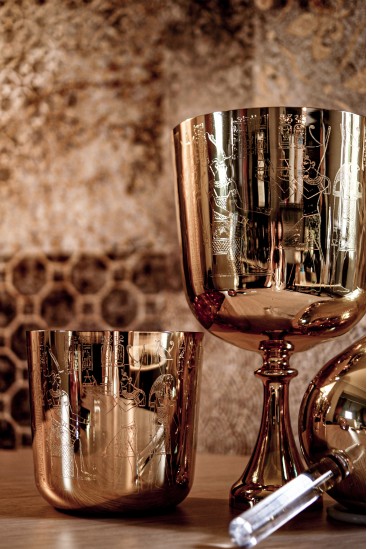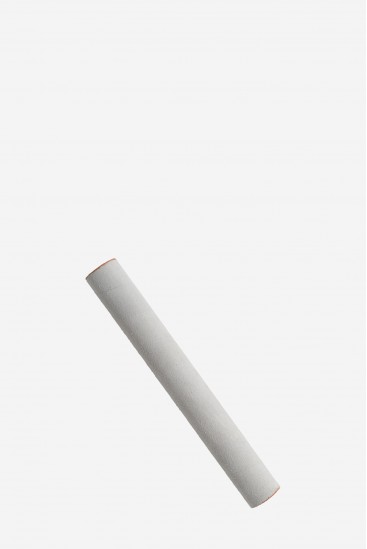  
Egyptian grail - crystal singing bowl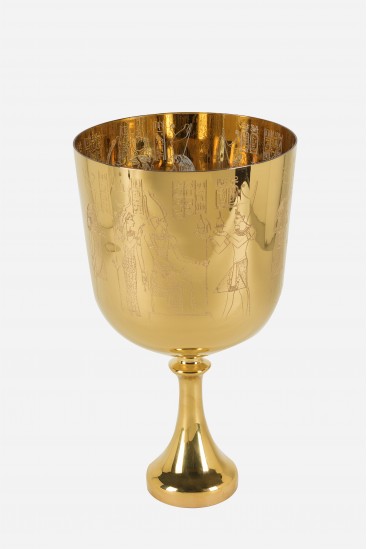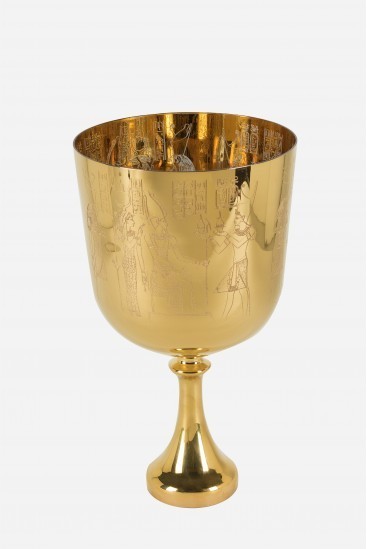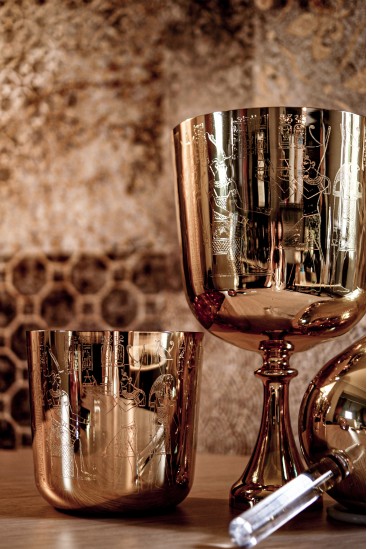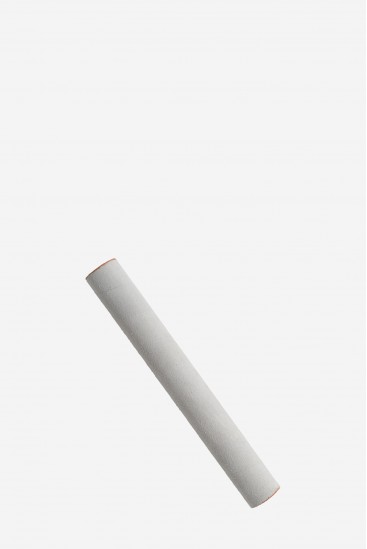 The alchemy of metamorphoses by awakening to our memories of eternal Egypt.
An impressive chalice of Beauty and Majesty!
Rare instrument for Initiates on the Way of Unity.
Calice in natural quartz and 24 carat gold
(9") 23 cm in diameter for a deep and deep sound
(7") 18 cm a medium and high sound
Engravings: Egyptian Divine Trinity - Isis, Osiris and Horus
Sound: very Bass (octave 3) 
Note: D - chakra sacred - feminine /  A third eye
Spiral: clear and very long
Full description
Cristal Vibrasons selects for you singing crystal bowls of excellence. Since 2005, we have set rigorous specifications with our manufacturers to avoid granular crystal bowls and too thick. Our bowls are made of pure quartz and 100% natural. They are created according to an industrial process with international standards.
Our expertise is based on our singularity: therapist-teachers, distributors and designers range, we have the concern to offer you instruments that we test, purify and would like to use in our practices.
Originating from a French process used by Saint-Gobain, the laboratory crucibles became, thirty years ago, crystal singing bowls, an ingenious discovery of the American Cédric Wise. You will find everything about their origin in our white paper
Following the relocation, all crucible manufacturers have moved to China, thus transferring their know-how. The quartz used comes from Asia, the United States or Latin America.
Since 2004, we have been working with renowned manufacturers, certified to international standards (SGS) with whom we have drawn up demanding specifications, in accordance with our own professional practices and our choice of excellence.
A close partnership has therefore been established with creative artists. We inspire their work to create, with precision and beauty, our own collections.The Cristal Vibrasons singing bowls become incomparable vibratory and sound jewels for meditation!
Cristal Vibrasons can help you choose your bowl and answer your questions at anytime.
Please ask us all your questions on our live chat, we will be pleased to lead you to the perfect fit.
A choice on the net, guided by specialist trainers, can be simple and effective when your feelings match with their expertise.
Our expertise, your asset
No drop shipping or Market place. So, no unpleasant surprises! After control, all our instruments leave directly from us.
We advise you for a personalized choice and we train you to practice in complete autonomy.
Automatic 10 percent discount for professional Health or Well-being accounts with SIRET number (excluding promotional products)
Appointment possible by videoconference or by phone to listen to your bowl before purchase
Payment in several installments by credit card, Paypal and checks
You might also like
Professionals advise you
Description of my product
Universe Egyptian chalice is a crystal bowl of crystal Vibrasons made of natural quartz and 24K gold, fixed by electrolysis.
Your chalice comes with a suede mallet. Saddlebags are available for purchase.
He is an exceptional mediator, subtle and powerful in energy care. Perfect in meditative and ritual practices. Ideal for carrying the voice at full power if you sing or chant.
They may lose intensity outdoors or in large groups. The fineness of the wall requires to adapt the game of the stick to prevent it saturates too quickly.
• The Apprentisons
• The Vibraspirants
It is practiced as a bowl with handle but can land on a table while continuing to sing. It is light and manageable. Its wall is smooth, there is no friction noise with the stick. The vibratory and sonorous wings of this exceptional ship are rich in harmonics and a spiral game that is quite unique. Fast and lively, it raises the vibratory rate quickly while harmonizing the subtle bodies thanks to the 24K Gold of which it is composed. In addition to its sound frequencies, its color spectra promote harmonization as in chromotherapy.
What impact of the gold metal?
Gold is a solar frequency par excellence. It facilitates the radiation of being and self-confidence. It allows to connect to the Wisdom, source of unity and life.
The myth of Isis and Osiris symbolizes the alchemy of all metamorphosis. Isis, goddess and magician, recalls the presence and the constructive and curative intervention of the eternal feminine in any transformation process involving the unconscious. His brother and late husband, Osiris, symbol of the ancient king, that she will seek tirelessly: Osiris acts as an inner image that guides you.
This search, unified and hidden will of Isis, resembles, on the psychological level, the unconscious desire to start a conversation with his unconscious where the Self dwells, the clarity, the conscious awakening (Osiris dies and is reborn in Horus, son of Isis). It is through the lived experience of wanting to know or know, which can take many forms, that the unifying will of Isis is expressed.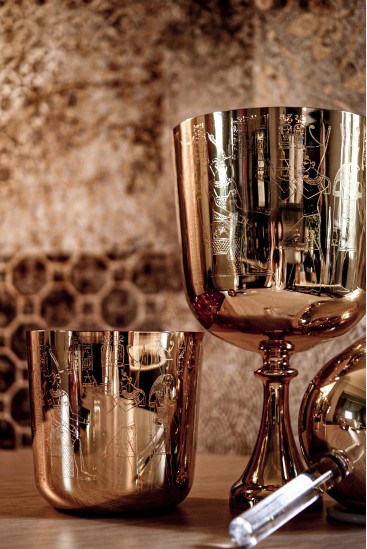 What our clients think