The leading site for singing crystal bowls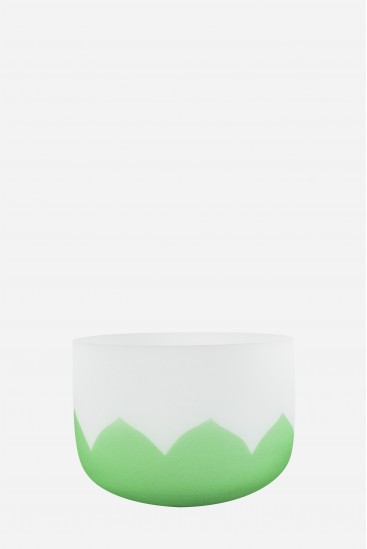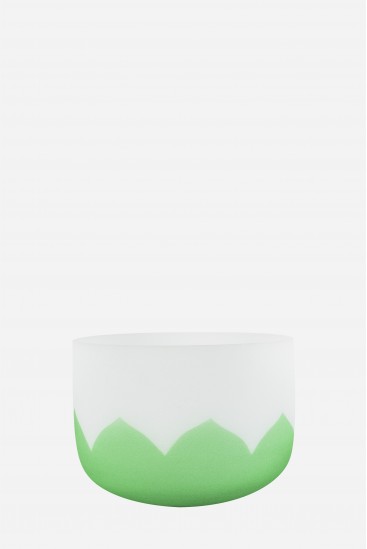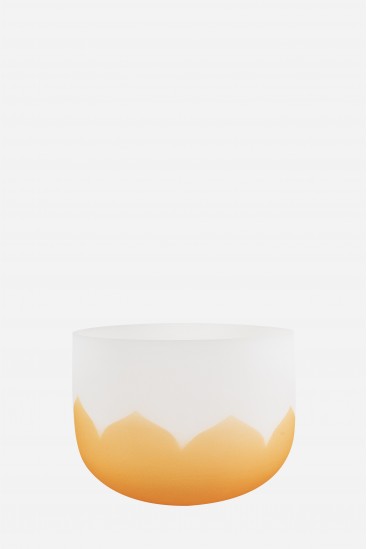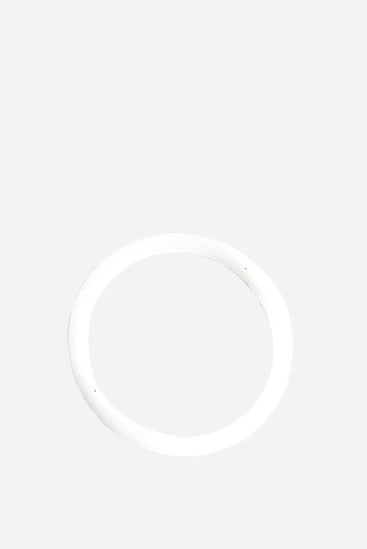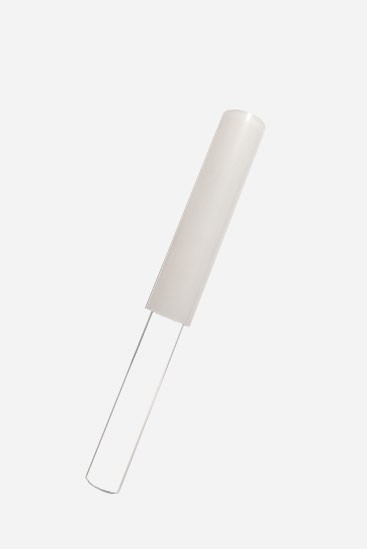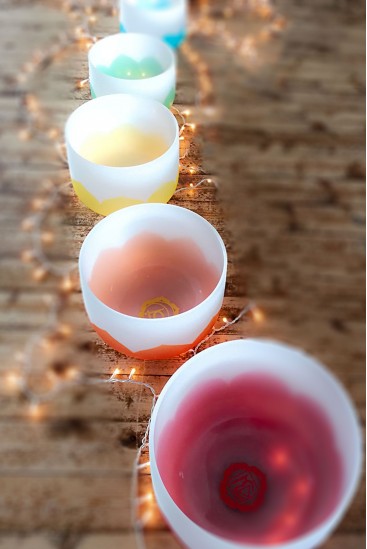  
Lotus 432 Hz individually - Crystal colored singing bowl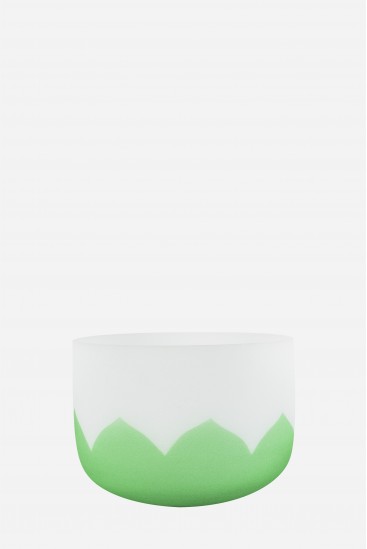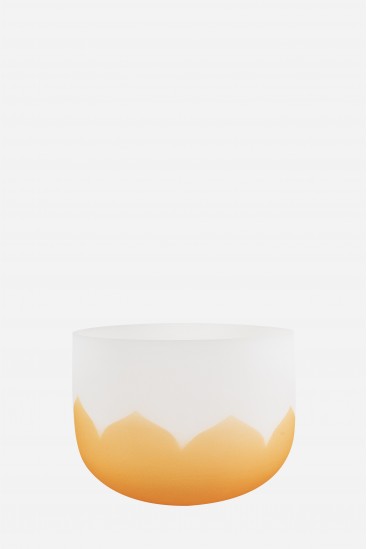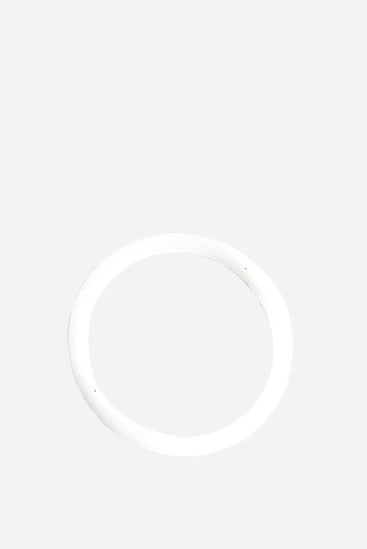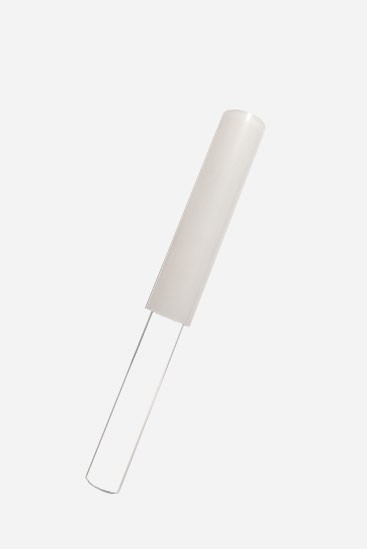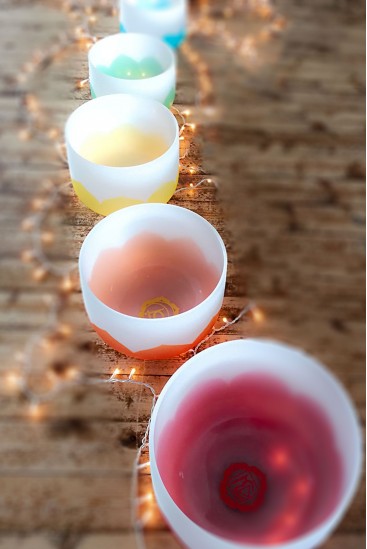 The natural frequencies of 432 Hz and invigorating colors for incomparable bowls.
The color of the chakra, its note and its symbol (yantra) inside.
The "must" of classic bowls!
Choose a color and listen to the sound
Premium Quality Natural Quartz Bowl, Smooth Non-Granular Wall
from 15 to 35 cm in diameter on the 432 hz range, with matching note / chakra / color of the lotus flower and painted yantra in the bottom of the bowl
Color: white with lotus flower and yantra painted in chakra color
432 Hz Medium sound (octave 4) for the first 7 bowls and treble (octave 5) for the eighth
Notes: Red Root Chakra - Orange Sacred Chakra - Yellow Solar Chakra - Green Chakra Chakra - Light Laryngeal Chakra Floor - The Third Eye Chakra Indigo- Purple Chakra Crown - golden Soul chakra
Spiral: variable according to the diameters and the bowl itself
Full description
Cristal Vibrasons selects for you singing crystal bowls of excellence. Since 2005, we have set rigorous specifications with our manufacturers to avoid granular crystal bowls and too thick. Our bowls are made of pure quartz and 100% natural. They are created according to an industrial process with international standards.
Our expertise is based on our singularity: therapist-teachers, distributors and designers range, we have the concern to offer you instruments that we test, purify and would like to use in our practices.
Originating from a French process used by Saint-Gobain, the laboratory crucibles became, thirty years ago, crystal singing bowls, an ingenious discovery of the American Cédric Wise. You will find everything about their origin in our white paper
Following the relocation, all crucible manufacturers have moved to China, thus transferring their know-how. The quartz used comes from Asia, the United States or Latin America.
Since 2004, we have been working with renowned manufacturers, certified to international standards (SGS) with whom we have drawn up demanding specifications, in accordance with our own professional practices and our choice of excellence.
A close partnership has therefore been established with creative artists. We inspire their work to create, with precision and beauty, our own collections.The Cristal Vibrasons singing bowls become incomparable vibratory and sound jewels for meditation!
Cristal Vibrasons can help you choose your bowl and answer your questions at anytime.
Please ask us all your questions on our live chat, we will be pleased to lead you to the perfect fit.
A choice on the net, guided by specialist trainers, can be simple and effective when your feelings match with their expertise.
Reviews about this product

Show attestation
The series of Lotus 432 Hz bowls is a delight, of great quality, it offers pure moments of energetic renewal. (Translated review)

Meets my expectations perfectly (Translated review)

Hello, I am conquered by the purity of the sounds that are released from the crystal chantal bowl, a great asset for my energy treatments... the second purchase is planned for 2022... I highly recommend .... Liliane Bissonnier (66300) (Translated review)

It is beautiful! A sacred object for me, a pure sound (Translated review)

A spectacularly powerful bowl, impossible to live without it now! (Translated review)

Beautiful sound for the heart. (Translated review)

Very satisfied with my purchase. (Translated review)

...even in the middle of a pandemic I purchased frosted bowls and they arrived to Ireland within two weeks even in the middle of a pandemic. The website is very easy to navigate and Pascal and Muriel answered my mails very fast too, close and personalized service. I already recomended it and I will keep doing it. Excelent service. Thank you very much! (Translated review)

Alara I received my bowl yesterday and I am very, very happy with it. I play it many times a day. It is my first crystal bowl and I love it! the sound is very pure. Thank you so much! (Translated review)

Hello Pascal, I have received my bowl, and it is beautiful and the sounds wonderful, Thank you for your kindness, friendliness and seriousness. Would you be so kind as to tell me what the symbol on the bottom of the bowl means? Thank you. Have a nice day and take good care of yourself Namasté (Translated review)

I am very happy with this purchase and first purchase on your site Hello Pascal, (Translated review)

hello just to let you know that I received my bowl I am very happy thank you to you (Translated review)

Perfect good morning just to let you know that I received my bowl I am very happy thank you to you (Translated review)

Hello Pascal & Muriel, It is a sweetness to discover you and a pure happiness to meet the vibration of this magical Lotus FA bowl in 432. I am very happy that the meeting with my first crystal bowl was done through the exchange with two souls like yours. Things don't happen by chance, the bowl has found a place of honor in my little apartment, and especially in my life. It is already part of the Meditations & Sound Travels that I offer and travelers are delighted. An immense respect for its presence has been established from the start. A greed for all the strata of the being that to accompany it to vibrate and receive its sound caresses The beginning of a beautiful history. He will have brothers one day, that's for sure. Small return on the sound journey that you have created at the Sensei in Monaco... Thank you for your luminous presence, in the balance and the respect of the creation of the sound, neither too much, nor not enough. A particular accuracy rarely encountered. A touching harmony between you two, complementary and radiating love. Your voices, what to say Happiness of the senses and massage of the soul. A magnificent balance between sugar and salt, depths and air, roots and leaves, in short a little of the "All" in your emanation, and it feels good. If I had to choose a word, I would come back to "rightness". Not that of the voice, although it is there, largely. Thank you. I look forward to meeting you again by chance. (Translated review)

I am very happy that the encounter with my first crystal bowl was made through the exchange with two souls like yours. Hello Pascal & Muriel, (Translated review)
Our expertise, your asset
No drop shipping or Market place. So, no unpleasant surprises! After control, all our instruments leave directly from us.
Automatic 10 percent discount for professional Health or Well-being accounts with SIRET number (excluding promotional products)
Appointment possible by videoconference or by phone to listen to your bowl before purchase
Payment in several installments by credit card with Klarna, Paypal and checks
You might also like
Professionals advise you
Description of my product
The Lotus 432 Hz are frosted-white crystal bowls on the wall of which are painted lotus flowers and in the bottom of the bowl the yantra corresponding to the chakra. They are available on musical notes accorded to the 432 Hz.
Your bowl comes with a suede mallet and a rubber laying circle.
Everything is possible with the Lotus 432, create elixirs, work with water, meditate, accompany concerts or sound travels, perform energy treatments, sing mantras ... etc. In addition, they are exceptional mediators in therapeutic accompaniments.
• The Apprentisons
• The Vibraspirants
Their frequency on the 432 range gives them a vibratory lightness quite remarkable. They are subtle and their sound and vibratory power is qualitative! In addition, the sounds are stable and their sustain is long, regardless of the diameter of the bowl. Moreover, they are sensitive and therefore very easy to play. They can be used indoors and outdoors. The quartz selected by our manufacturers is the purest of the silicas used for these singing bowls and among the many levels of quality required for the manufacture of these crucibles.
Some diameters are heavy to wear. Their power requires to raise awareness about their use and also to develop the control of the energetic fields they deploy and elevate.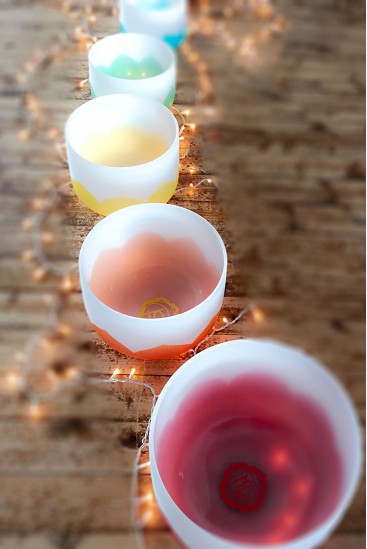 What our clients think