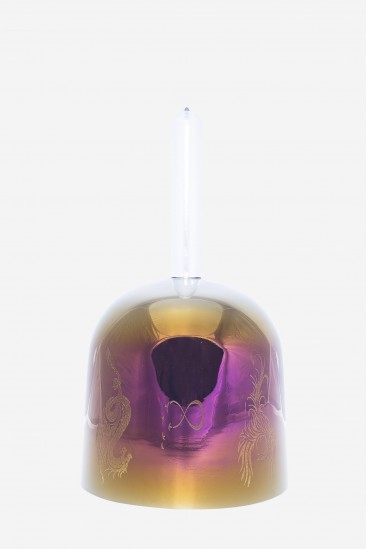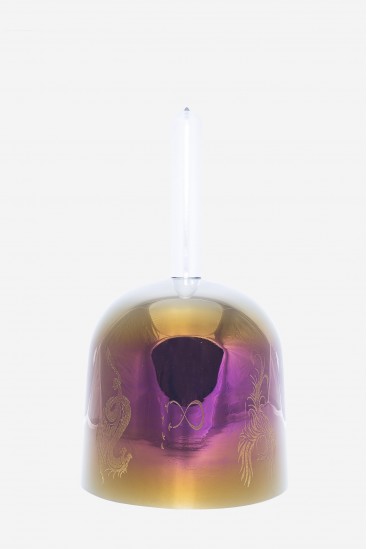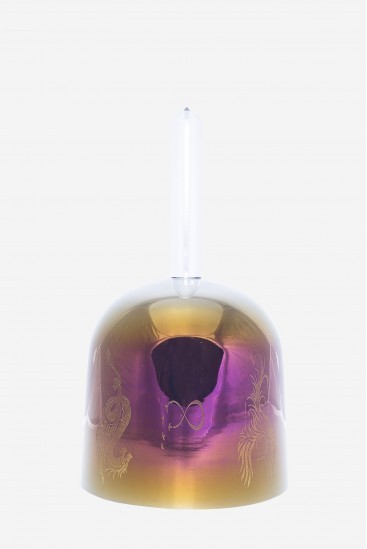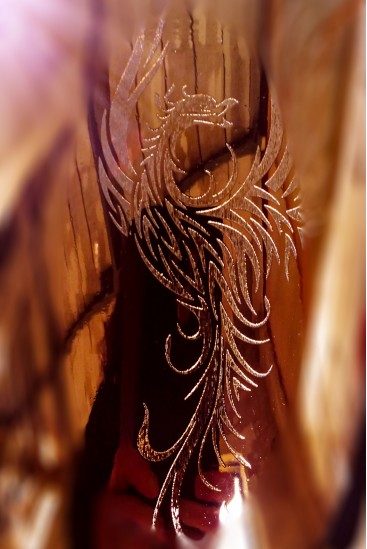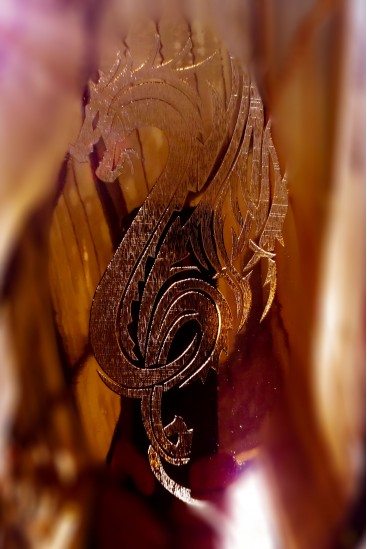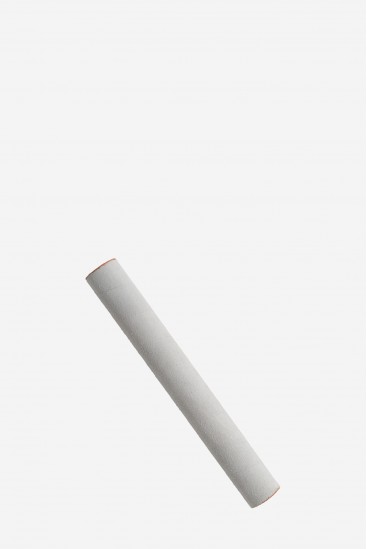  
The Alchemist - Practitioner Bowl - Crystal Singing Bowl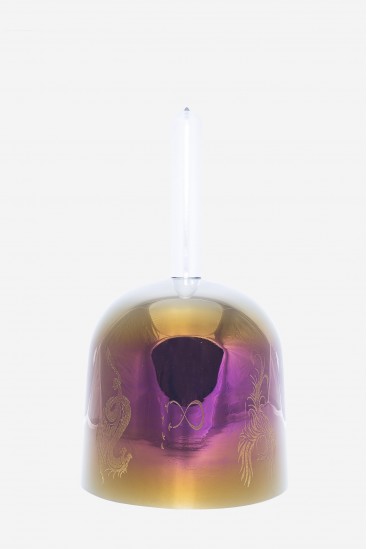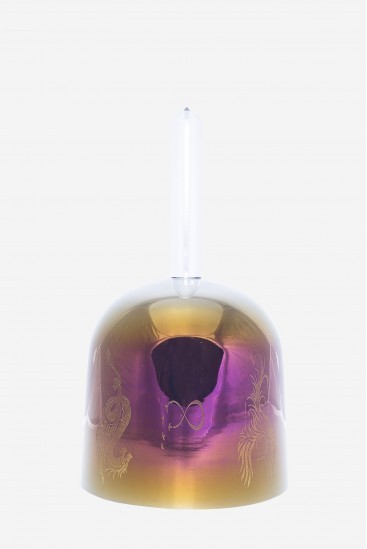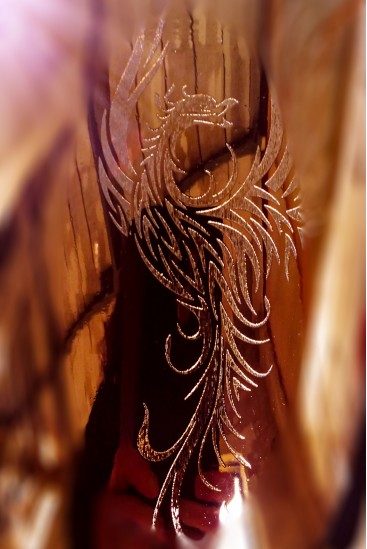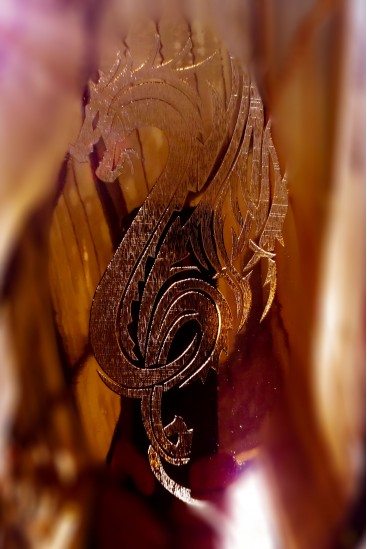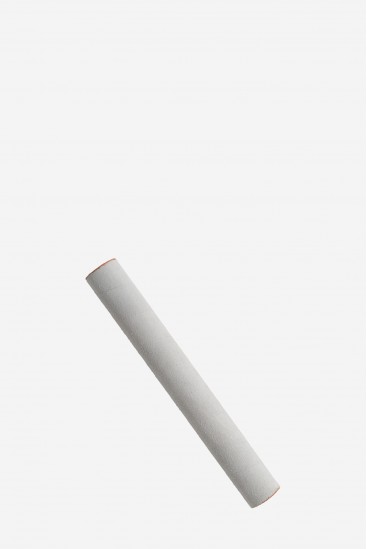 Alchemical fire's energies serve your personal transformation.
The essential tool of the practitioner for his care and for initiates on the Way of Alchemy.
Natural Quartz Practitioner Bowl colored by titanium gas
6" (16 cm) and 7'' (18 cm) diameter to activate the Holy Fire which transmutes the wounds of the past.
Engravings: a Dragon, a Phoenix, and a Lemniscate, three symbols to discover
Acute (C# octave 4) Deep sound (C octave 3 and 4)
True Pitch C # Note, linked to the dharma chakra (8th), so that the transformation is realized in your manifested life.
True pitch C note to for anchoring and incarnation
Spiral: clear
Full description
Cristal Vibrasons selects for you singing crystal bowls of excellence. Since 2005, we have set rigorous specifications with our manufacturers to avoid granular crystal bowls and too thick. Our bowls are made of pure quartz and 100% natural. They are created according to an industrial process with international standards.
Our expertise is based on our singularity: therapist-teachers, distributors and designers range, we have the concern to offer you instruments that we test, purify and would like to use in our practices.
Originating from a French process used by Saint-Gobain, the laboratory crucibles became, thirty years ago, crystal singing bowls, an ingenious discovery of the American Cédric Wise. You will find everything about their origin in our white paper
Following the relocation, all crucible manufacturers have moved to China, thus transferring their know-how. The quartz used comes from Asia, the United States or Latin America.
Since 2004, we have been working with renowned manufacturers, certified to international standards (SGS) with whom we have drawn up demanding specifications, in accordance with our own professional practices and our choice of excellence.
A close partnership has therefore been established with creative artists. We inspire their work to create, with precision and beauty, our own collections.The Cristal Vibrasons singing bowls become incomparable vibratory and sound jewels for meditation!
Cristal Vibrasons can help you choose your bowl and answer your questions at anytime.
Please ask us all your questions on our live chat, we will be pleased to lead you to the perfect fit.
A choice on the net, guided by specialist trainers, can be simple and effective when your feelings match with their expertise.
Reviews about this product

Show attestation
Completely satisfied (Translated review)

This bowl rises quickly in power, its sound spectrum allows to be used for any type of care. (Translated review)

A pure marvel, sound, visual, sacred (Translated review)

Perfect in all dimensions

Alchemical encounter I can only thank Pascal and Muriel for their speed and professionalism. Thank you for the answers to my many questions and for the extremely fast delivery. I was immediately seduced by the beauty of the Alchemist. A visual as well as aural beauty. It is a wonderful tool. I am looking forward to discovering it a little more in order to be able to feel all the harmonic finesse and the numerous energetic subtleties it abounds in. I already know that it will be a pleasant companion of care and meditation. I can't wait to play it in order to be able to tame it better. This bowl is simply magical. (Translated review)

wonderful!!! this sound ... I have no words to express the wonderful s without regrets! (Translated review)

The magic of anchoring To anchor deeply in order to be able to "climb" even higher.... In addition to its beauty, its vibrations are magical, they surround you, reassure you and help you to plunge your roots to the heart of the Earth. I wish you the happiness of living this experience (Translated review)
Our expertise, your asset
No drop shipping or Market place. So, no unpleasant surprises! After control, all our instruments leave directly from us.
We advise you for a personalized choice and we train you to practice in complete autonomy.
Automatic 10 percent discount for professional Health or Well-being accounts with SIRET number (excluding promotional products)
Appointment possible by videoconference or by phone to listen to your bowl before purchase
Payment in several installments by credit card, Paypal and checks
You might also like
Professionals advise you
Description of my product
Practitioner bowl delivered with a suede mallet. Saddlebags are available for purchase.
The Alchemist is a Crisstal Vibrasons bowl, made with transparent natural quartz, iridescent by titanium gas.
Its maneuverability and sensitivity make it a quality mediator for care. Fire energy and orange color lead to the transformation in depth. Perfect for putting your voice on your root note, for singing, chanting mantras or any other use using the verb.
They can lose intensity outdoors or in large groups.
• The Apprentisons
• The Vibraspirants
Lightweight, handy, easy to play bowl. He is sensitive to touch, reactive and his singing lasts a long time. Spiral quick and frank, stabilizes on a C note in octave 4 medium, facilitating anchoring by the root chakra.
Orange is a warm color, linked to creativity, communication, senses and serenity. It's also the female chakra color.
What about the engravings?
The bowl is engraved with 3 different symbols: the Phoenix, the Dragon and a Lemniscate that opens on birds. The Dragon represents a preliminary stage of transformation. By sinking into the unconscious, the old consciousness puts itself in a perilous situation, because it apparently extinguishes itself in order to metamorphose. The Dragon is also the golden symbol of Consciousness ...
The Phoenix is ​​the philosophical sulfur. It represents then the principle of fixity which resides in the hearth of our central fire. It seems to be consumed unceasingly, to reborn continually of its ashes. It is the symbol of regeneration that is the alchemical red work.
Between these two engraved figures, we can find a Lemniscate. It is a form of spiral movement with incessant passage through the center. Traditionally, as in mathematics, we have made it the symbol of infinity.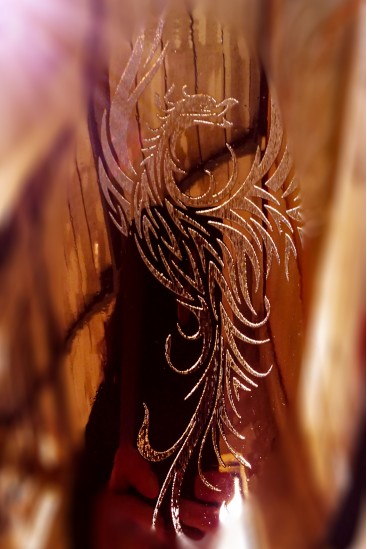 What our clients think